Robert Makobero is using a crowdfunding campaign to finance this charitable work.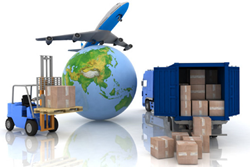 Toronto, Ontario, Canada (PRWEB) September 29, 2014
Robert Makobero, a licensed customs broker in Toronto, has a unique plan to help the worlds poor people.
Heres his idea: Through his company, Rimmexlink, Makobero will collect used clothing in Canada and then sell it at bargain prices to African counties. Using his skills and experience in freight forwarding, combined with a sizeable amount of capital raised through crowdfunding, he feels he can make it work. Makoberos goal is to ship 30 containers of clothing per month.
I really want to do something to help those in need, said Makobero. Providing clothing to impoverished people in third-world countries is something Ive thought about doing for quite a while. Ive finally figured out a system where it could work. But I need some help from the general public.
He plans to ship clothing to Kenya, Tanzania, Zambia, Uganda, Rwanda, Burundi, Congo and Dubai.
The global market is spurred by international transportation, and as Canadian economy trends are spurred by exportation, I am willing to start up with a freight forwarder and customs brokerage company in order to be a part of that soaring market, Makobero said. Rimmexlink will not only be a charitable organization but it will create jobs and help the local economy here in the Toronto area.
The project is contingent upon raising $ 300,000 through an Indiegogo campaign, which can be viewed at http://www.indiegogo.com/projects/connect-the-world-selling-ur-worn-clothing.
The money will be used for a customs license ($ 50,000 Canadian), customs fees, shipping costs and collateral for a loan that will enable Rimmexlink to operate as a Canadian business. Donations of any amount are welcome.
I am hoping that people all over the world will support this project, Makobero said. Having enough clothing and having clothing appropriate for the weather is something that most of us take for granted. But for many people in third-world countries, this is a luxury they simply cant afford.
By contributing to Rimmexlink, you can help the less fortunate have adequate clothing. Its the least we can do.
For additional information, visit the Rimmexlink Indiegogo site at http://www.indiegogo.com/projects/connect-the-world-selling-ur-worn-clothing. You can also visit Robert Makoberos LinkedIn page at ca.linkedin.com/pub/robert-makobero/94/3b6/645/.
Makobero can be reached directly at rimmexlink(at)gmail.com.
Visit Commercial Link about Mr Green :
Mr Green